Spring Break is over and we are geared up and ready to go! We can't wait to see the kids tomorrow. Here is what is happening this week at MTSD! Monday: Tuesday: Any Jr. who missed the ACT will take their makeup test. Wednesday: Thursday: Certain students will be taking the ACT WorkKeys assessment. Friday: Elementary students will wear Tribe colors. Upcoming: April 3rd- Report Cards April 7- Good Friday (No School) April 10- Professional Development (No School) April 22nd - Prom May 16 - Graduation We will start including our spring sports in the text next week. Have a great week!
Baseball and Softball seasons are in full swing! Come out and support the teams as Softball plays in the Bearcat Blast on March 17th and 18th at Southside Complex in Jonesboro and Baseball plays in the NEA Sports Spring Break Classic March 20th and 21st at Bay!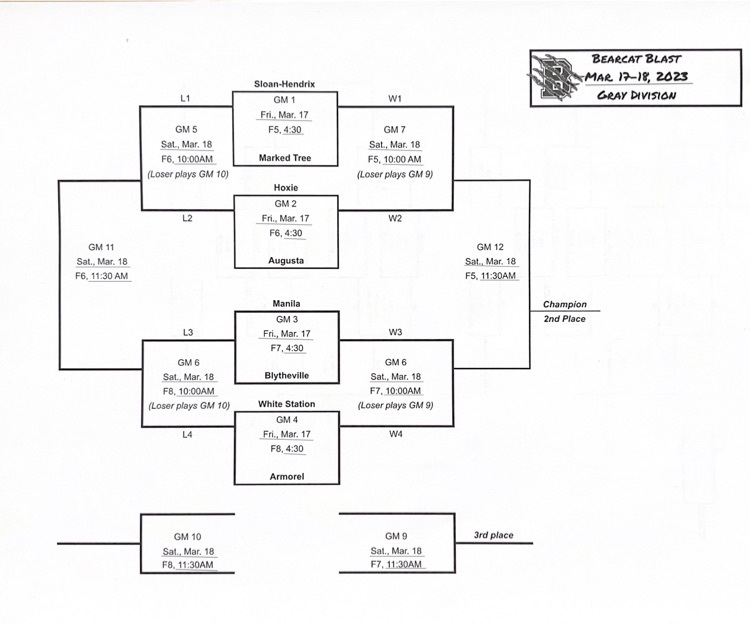 Thank you, Marked Tree! The support you have shown our young men and women over the past month has been amazing! Our student-athletes represented our community in a manner that made all of us proud. Thank you for the love you have shown them! Once an Indian, Always an Indian.

Getting closer to tip-off!

Pep-Bus Information: Pep-bus will leave the high school Friday at 1:30pm. Students riding were given their shirts today at school and are asked to wear them to the game in support. The anticipated return time of the pep-bus will between 12:00-12:30 Friday night. Due to the security policy of the convention center, students will not be allowed to carry in purses or bags to the game unless they meet the size requirements of the clear bag policy.

Coming soon...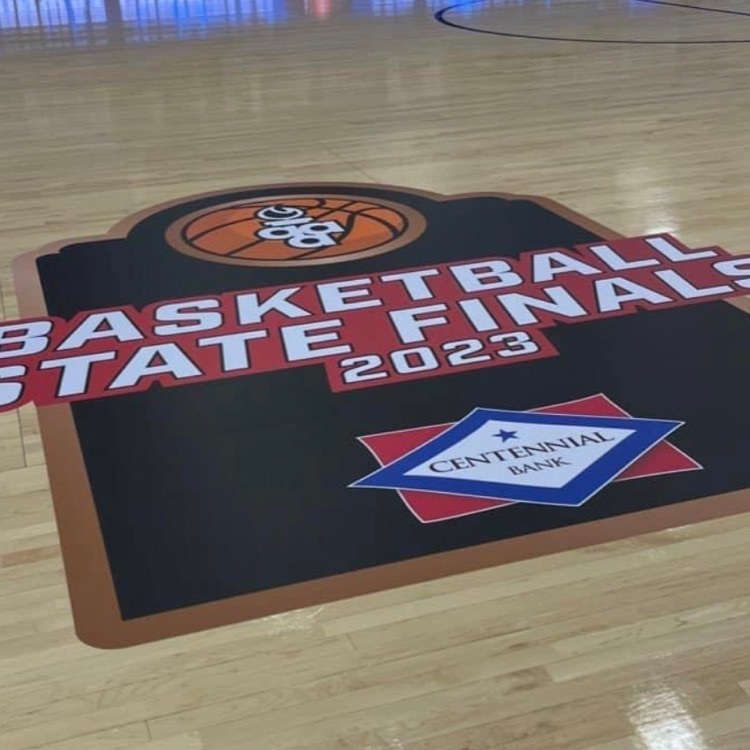 Can't make it to the game? You can watch it on Arkansas PBS.

There will be a community pep-rally for our basketball team at 12:45 on Thursday. This is right before our basketball team will leave at 1:30. We would love for everyone to come help us send off our players! There is a new link for tickets. You can access that link by clicking here:
https://gofan.co/app/school/AAA
Please make sure you select Friday games for 1A Girls and Boys.

We have updated our page to include a link for tickets. This link is good for students and our fans until tomorrow at 8 a.m. We also have attached a rough draft of a T-Shirt that we are ordering to our landing page. To order, you can call the school or put name/size in the comments on Facebook. The deadline is today! You can click this link to access our state information page and order tickets.
https://tinyurl.com/yc59txyw
We will be having a pep rally and community sendoff for our kids. We will update you on that, ASAP. Please order your tickets! If you child is riding the pep bus, we will order their ticket in the morning. They must bring their $8 to ride. We met with them this morning.

Congrats to our Sr. Indians for making it to the 1A State Championship! Our team will play Friday at 7:45 pm. There will be no school on Friday. We want to allow all of our families and students an opportunity to travel to the game without having to rush. This will be a great week for us. There will be several important pieces of information that we will share throughout the week, but here is a link to a landing page where we will house all of the info about the game. Check back daily!
https://tinyurl.com/4xj49kkj
Here is your "This Week at MTSD!" Tues- Civics exams for Jr's. ACT provided by the school for all sophomores. TRIBE DAY AT ELEMENTARY!!!! Last Day for Pennies for Paws. Wed- Even period 9 weeks tests Thurs- Odd Period 9 weeks tests Fri- Championship Day! Tipoff at 7:45! NO SCHOOL! Our spring break will be is from March 13-March 24. Classes will resume on March 27.



Congrats to Ladarrius, Jonah, and Donny for making the Regional All-Tournament Team!

Congrats to Journi for making the Regional All-Tournament Team!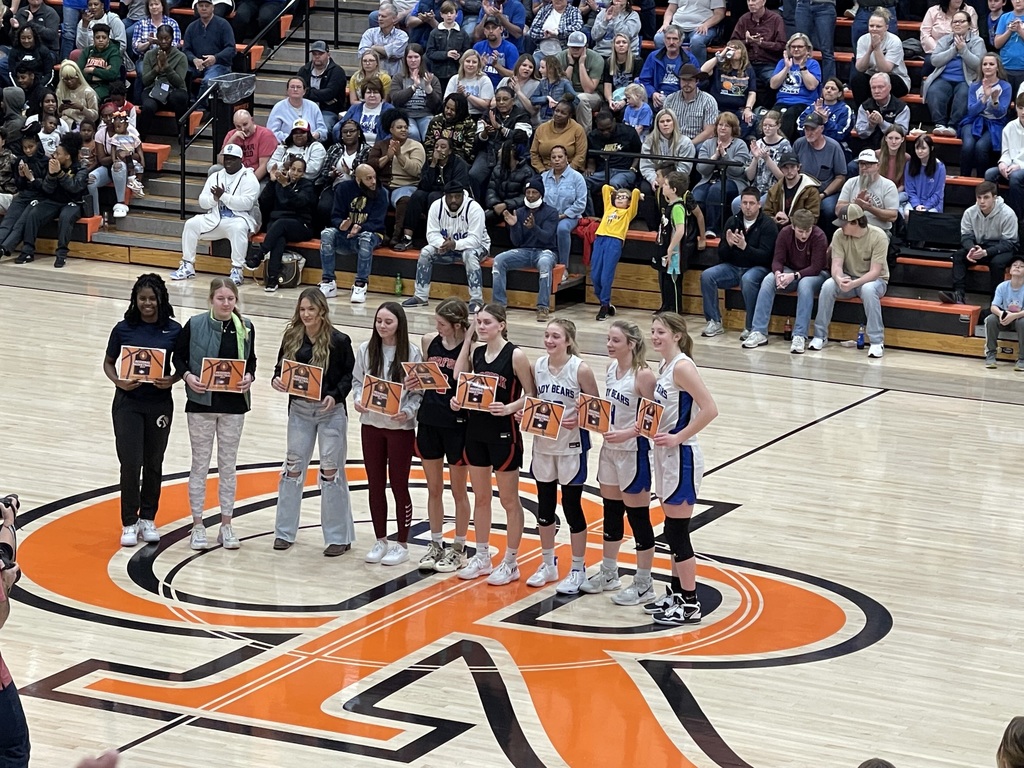 Champs!

I know everyone is proud of our girls team. Due to a lot of hard work, that program has grown so much in the past few years. We are so proud of the players, coach, and all of their families. The pep bus is for students in grades 7-12. Students who want to ride the pep bus need to arrive at the high school at 3:30. The bus will load in front of the high school and leave at 4:00. It is about a three hour trip by bus. Tipoff is at 7:30. The cost to ride the bus is $5. This will cover admission. Students will need to bring money for concessions. The bus will be home around midnight or later. Please make sure someone will be available to pick students up promptly upon our return (at the high school). We ask that students dress in blue or gold to show support for our Indians.


Sr. Boys win in the semifinals 56-43....the girls will play next. As soon as that link goes live, we will post it. WE WILL HAVE A PEP BUS. INFO WILL BE OUT AS SOON AS THE GIRLS GAME IS OVER!


Upcoming Events March 6- Info about how to order Spring/Class pictures will be sent home for elementary. Mar. 13 - Mar. 24 Spring Break If you want to stay up to date with your student's grades, we have a program called Home Access Center (HAC). Please visit
www.markedtreeschools.com/article/803961
to learn more.